Editor's Note: Philadelphia is a foodie's paradise, with more great restaurants and fun bars than we can count. But for those watching their weight, dining out in Philly can feel overwhelming. Here's the good news: You don't have to ruin your healthy eating goals to enjoy our city's booming restaurant scene.
Theresa Shank, RD LDN is providing Philly.com readers with information on healthy meal selections at popular bars and restaurants. (Yes, dietitians eat out, too!) Consider Shank your personal menu navigation guide to these four new Philly restaurants.
————-
Like a moth to a flame, Philadelphians unequivocally love their Sunday brunch. Fortunately, you don't have to give up your Sunday ritual to maintain both your happiness and your waistline. Here's my take on navigating your way through the menus of the city's favorite brunch spots.
I love Farmacia for their Sunday happy hour. From 11 a.m. to 2 p.m., all drinks are half priced. But since liquid calories add up fast, you'll want to sip selectively. By skipping the mimosas and ordering a glass of champagne you'll shave off calories by eliminating the juice.  The same thought goes for bellinis and margaritas.
I always recommend that my clients start their mornings with a good serving of protein, as this will help prevent blood sugar crashes and keep you feeling fuller longer. The Nova Salmon served with toasted bagel chips, capered cream cheese, tomato and red onion is one such example. It packs on the flavor while still appealing to a lighter appetite.
The Eggs Benedict or Maryland Crab Cake Benedict served on a toasted English muffin with sliced tomatoes and roasted potatoes, sounds like the perfect cure for a hangover. But with an excess of 500 calorie,s it ultimately won't leave you feeling any better. Instead, try an Egg-White Omelet with vegetables or their awesome Jumbo Lump Crabmeat Omelet (minus the evil hollandaise sauce) with a side of whole grain toast or roasted potatoes.
If you love vegetables with breakfast, Farmacia has five different salads from which to choose. I personally favor the Grilled Yellow Fin Tuna Salad or the Lump Crabmeat and Apple Salad but all salads are RD-approved.
The menu at Jones is split into four sections. The first section, "The Griddle," has your basic gluttonous options, so pass right on by here. The BMW pancakes or the Bacon and Cheddar waffles will certainly push you over your recommended daily carb intake.
Here, an omelet is a great choice. With varieties such as Roasted Brussels Sprout , Italian Turkey Sausage or Spinach and Feta Cheese, you really cant go wrong. Since omelets are usually made with three whole eggs, ask for one whole egg and two egg whites to save on fat and calories.
If you favor the lunch side of brunch, I recommend ordering the ALT. An avocado, lettuce, tomato, and mozzarella sandwich served on multigrain bread with a choice of fries, chips, or salad (the best choice). Jones is very accommodating with substitutions and additions, so be sure to add their house roasted chicken breast to this sandwich for a more satiating protein.
Due to the nature of its French cuisine, a lot of this menu is "heavy" and not necessarily RD-approved. (Think: pastries and cheese — as in macaroni au gratin or French onion soup.) To healthfully navigate this menu order one of the seafood-based salads. The Warm Shrimp Salad served with avocado is delicious and has just the right amount of protein and healthy fat to keep you satisfied – ask for the lemon beurre blanc sauce to be placed on the side. The confit tuna, red bliss potatoes, green beans and mustard vinaigrette found in the Nicoise Salad are a safe choice when watching your waistline.
The Eggs Norwegian is basically eggs Benedict except with smoked salmon instead of your standard bacon. Usually I say anything Benedict is a no-go but sometimes you just want something heavier for breakfast. For this dish, ask for the hollandaise sauce on the side and sub a salad for the potatoes to avoid double starching and reduce your carbohydrate intake.  If your brunch "go-to" is an omelet, order the Egg White Omeletwith ratatouille and goat cheese. The vegetables are fresh and the creaminess from the goat cheese is decadent in flavor but light in quantity, saving you unnecessary calories.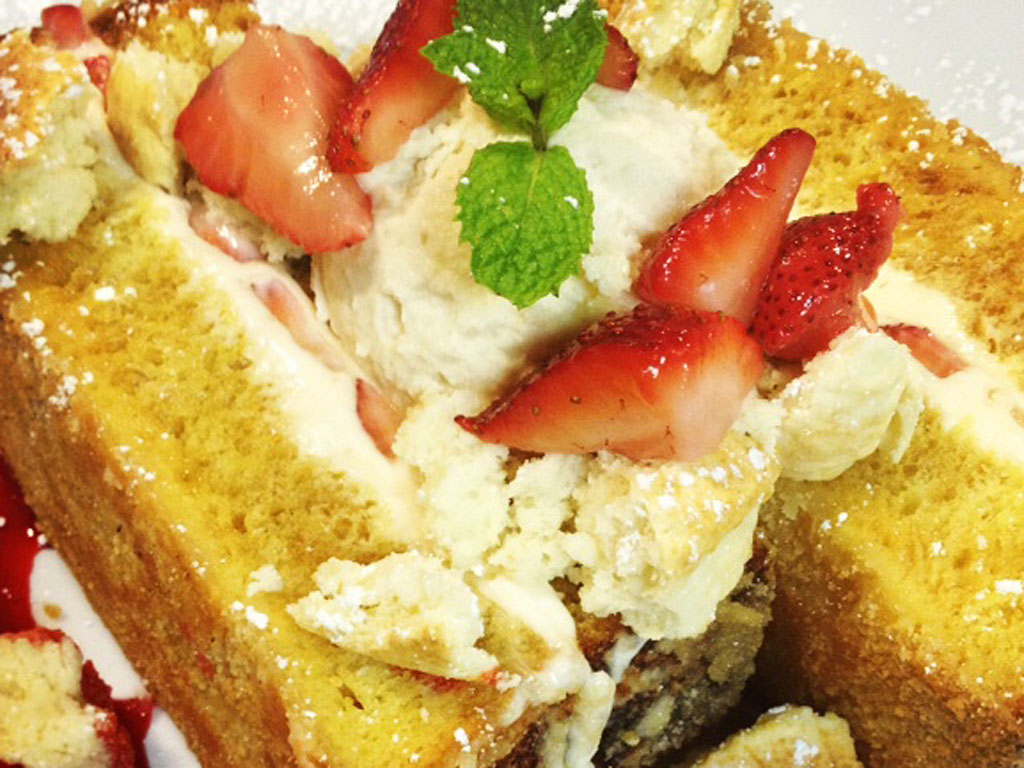 Eggs, Sweets, Skillets, Savory and Sides sections divide the dishes at Green Eggs Cafe.  Out of the egg selections, the Ultimate Tofu Scramble seasoned with curry and scrambled with onions, plum tomatoes and spinach is my favorite. Skip the vegan chorizo since it's processed (and quite frankly not worth the calories.) The cafe offers an egg white substitution for all of their egg-based dishes so take advantage of the guilt-free option. If you want to add a protein to your omelet, try to do so without adding cheese. This will cut down on saturated fat and calories.
The sweet section should have a warning for ensuing pre-diabetes upon consumption! Cookie Dough Stuffed French Toast, Red Velvet Pancakes and Pecan Pie French Toast are the biggest offenders. If you must try one of these dishes, share it among your entire table. Please, I beg you, do not eat it as an entire meal. If you are in the mood for something sweet, try the Quinoa Porridge (high in protein and fiber) prepared with agave nectar, cardamom, golden raisins, berries and cream. If you want cut down on sugar even more, forgo the raisins.
As for the skillets and savory selections, I would share the Breakfast Burrito served on a habanero tortilla with eggs, corn, chorizo, and tex-mex cheese. The Lox and Bagelfrom the savory dishes is a safe bet, but I would try to only eat half, so as not to fill up entirely on carbs.
———-
Read more Goal Getter for healthy eating, weight loss, and more.
Theresa Shank, RD LDN